You're probably wondering what you should get your best friend for their birthday. You want to give them something that will be meaningful and show how much they mean to you, but it's hard to know where to start!  We've compiled a list of some great birthday gift ideas for friends so that you can find the perfect present.
1
Willow Tree Abundant Love
If you're looking for the perfect gift for a friend of loved one, then look no further than our exclusive Willow Tree Abundant Love sculpture. Beautifully hand-painted and created in breathtaking detail by sculptor Susan Lordi, this 14cm statue features intricately arranged roses that sprawl delicately across both sides with words to inspire your recipient. This is a gift that will be cherished forever, alongside any other gifts your friend may receive on their birthday. Send it today to show your love!
2
My Best Friend Duo
My Best Friend Duo is the perfect mix of sweet and savory indulgences! The white Zandvliet My Best Friend wine offers a refreshing fruity grape flavour while the red wine has a smooth chocolate twist. When paired with Ferrero Rocher truffles, biltong or mixed nuts, this truly is the perfect gift for friends near and far.
3
Best Friend Picnic Basket
So saddle up to the picnic table and experience an epic adventure at home with a duo of wines that are best friends. Find all your Best Friend needs in one basket, from plates and cutlery to fine foods—and even some throwback lip balm for those chapped lips. Face long days in style: Friends don't bite!
4
Personalised Letters To My Friend Notebook
As you can tell, I'm a sentimental girl and would love this notebook to share my thoughts with the people that mean so much to me. I love how they say it comes in 10 individual letter sleeves so even if I want to write one for more than one friend or just one lucky person, there's space for them all! Plus writing out some encouraging words reminding them just how special they are is something you don't want to miss doing.
5
Personalised Best Friend Glass Tile
Best friend moments are seriously special, so celebrate your long and tight-knit bond with this personalised thank you from best friend to bestie. You can be as thoughtful as you want in designing their glass tile–personalise it with a memory that means the most to them, or just write out a 'thank you for being the best friend ever' message. She will love her gift and cherish it always!
6
Personalised No One Friend Cosmetic Bag
Don't you just want to cozy up with your best friend every time they need a pick-me-up? We know we do. Which is why we created this cute black and gold glitter cosmetic bag, spotted with the personalised slogan 'No 1 Friend', complete with their name. It's perfect for when they're feeling down or when they could use some cheering up on any given day of the year!
7
My Best Friend Duo with Balloon
For that special someone who's such a best friend to you, why not give them this Awesome Best Friend Gift! It's filled with two of their favourite wines, yummy snacks and chocolates just for them. There isn't anything they won't love in this gift box – because you know what they like (even if it's not necessarily on the list).
The gift includes Ferrero Rocher Chocs so let him or her enjoy these sinful little pieces after completing that arduous task of being your "bestie" when life is rough and tough.
8
Zandvliet My Best Friend Cape Red 750Ml
Discover the Cape's multi-faceted, best friend wine. The Zandvliet My Best Friend Cape Red(750ml) has been especially blended for those who enjoy juicy, easy-drinking wines at fair value.
This superb wine is easy to drink with almost any meal and will give you a blast of zesty fruit every time you sip. So stop searching for your newest best friend and meet the flavorful red wine variety that never fails to satisfy.
9
Personalised Fridge Magnets
Personalised fridge magnets with your favourite photo are a phenomenal way of sharing beautiful memories. You can choose from a variety of different photos or select photos from a specific event, turning them into eye-catching polaroid magnets. A perfect gift for those who are friends in real life and on social media as well!
10
Personalised Finest Cheeseboard and Knives
When it comes to picking the perfect gift for cheese lovers, you can't go wrong with this personalised cheeseboard. It sets the ideal scene for any occasion, with 4 knives and a round design engraved with 'Finest Cheeses'. What could be better?
Order today before they're gone!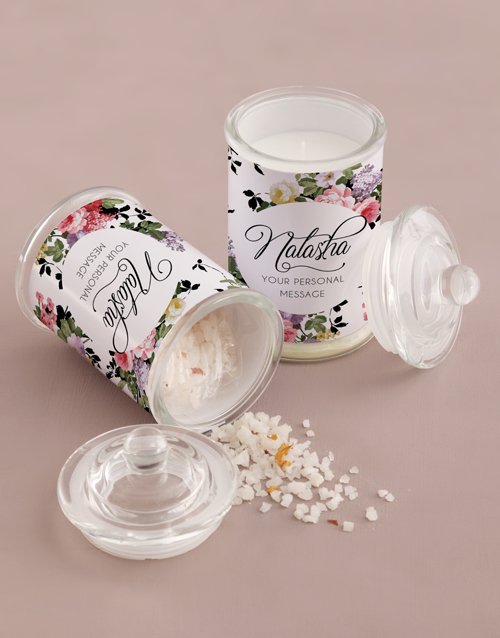 11
Personalised Vintage Rose Candle Jar
Give your best friend the chance to feel pampered and relaxed at home in their own time. They can relax with a soft, subtle vanilla candle scented air circling the room and they can line up her bath salts for use when she needs to refresh herself.
There are two items in this gift set – one is a candle beautifully wrapped inside an attractive jar that has been personalised with a name or message by you and the other is sparkling bath salts that will help soothe away any aches or pains they may have after using it.
12
Personalised Friendship Doughnuts
The perfect gift to make someone feel special, use these simple personalised doughnuts to convey any message you want! Celebrate a joyful occasion, show your appreciation for something they've done or just send them some love.
The delightful watercolour design makes it an extra-special present gift presented in the form of six plump, delicious doughnuts with everything from classic chocolate and vanilla icing to sumptuous caramel.
13
Personalised Vintage Love Quote Notebook
Here's a thoughtful gift for that special friend- you! This vintage notebook is the perfect present with its slogan, 'You are my dearest friend', inscriptions of your name and loveable font alongside it.
The A5 or A4 size encourages creativity and sentence composition to break up the monotony of everyday life, helping writers to continue down an innocent course through their day.
Thank them today from the bottom of your heart for being so close in this age of isolation by gifting this little bit of beauty with heartfelt sentiments.
14
Cerise Roses in a Teacup
Picture this – you're iced out, tired and down in the dumps. Luckily your best friend showed up with a box of sent-just-for-you cerise roses.
Truly heartfelt and priceless, these roses are perfect for when you want to say thanks to someone in your life: Friend or pet, colleague or family member. So thank them!
15
Personalised Friendship Notebook
Friendship is the most important thing in life, and not something you should take for granted. When we have each other's backs, it's easier to be confident and comfortable being our true self at work or school. That's why this personalised friendship notebook is a special gift anyone can enjoy giving to their best friend(s).
Each notebook contains 60 pages of blank lined paper with perforated edges so that your recipient can share some thoughts without trepidation before ripping them off!
16
Personalised Friendship Photo Mug
If you've been looking for a way to say 'thank you' to your friends, then look no further! Our Personalised Friendship Photo Mug is the perfect way to express gratitude with just one shot.
Choose your own photo and personalise with any name or message on each friend's mug! Plus, it will be delivered in a small hat box straight to their door – so that means there's no need for wrapping or ribbon required… saving time and money (yay)!
17
Personalised Friendship Glass Tile
Celebrate your friendship with a personalised gift that will remind them of how much they mean to you. Share some memories, or seal the deal with "I'd trade my best friend for you!" on this distinctive Friendship glass tile.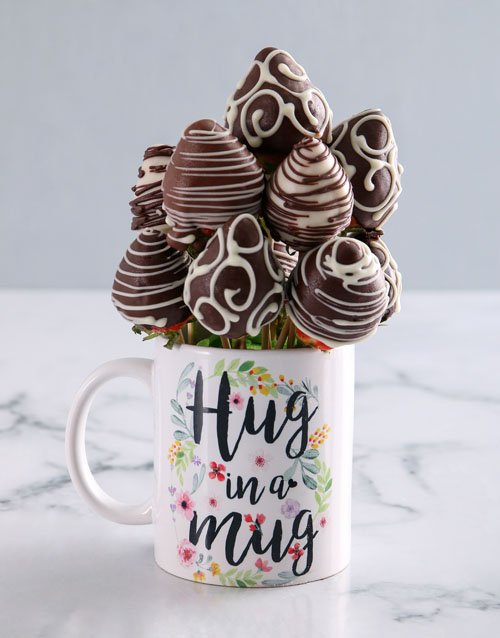 18
Friendship Dipped Strawberries in a Mug
Let's be honest, love is delicious and with these friendship dipped strawberries in a mug, you can share that love with others. Friendships matter and with this special gift of sunshine in a mug (printed with the words "Hug In A Mug"), you'll remind your friend how much they mean to you and how much fun it has been getting to know each other over apple pies for 4 years now!
19
Personalised Fabulous Friendship Assortments
The perfect gift for all your loved ones, they deserve to be pampered with the finest luxuries in life and this assortments of extravagance will take care of that little need. So go ahead, spoil a friend today!
20
Personalised Vintage Stamp Pongracz Crate
There's no better way to share a message of congratulations than with our Personalised Vintage Stamp Pongracz Crate. One of our newest additions, this gift is perfect for those who want to honour and celebrate someone special in their life. In the crate, you'll find an imported bottle of Pongracz Cap Classique (750ml) presented in a raw pinewood crate that comes complete with a sliding lid and your own personal stamp design.
But what truly makes it special? You have the option of engraving your name and surname on top along with a heartfelt message to whoever you're celebrating! Alongside this thoughtful presentation set will come even more goodies like glasses (4-piece) and coasters to ensure your favorite drink is always served with a touch of class. For birthday gifts for friends and other loved ones in South Africa, this is the perfect way to say, "You're one of a kind!"
21
Personalised Friendship Hot Choc Tin
It's hard to find friends just like you, so when there is someone worth being besties with, it's important that they know! This personalised hot choc tin will make all your hopes and dreams come true this Christmas. Snap 'em up before everyone else does because these are going fast!
22
Personalised Friendship Fruit And Nuts Tube
Think about the last time you were given a beautifully wrapped gift. It set the tone for what was to come and made you smile before even opening it, right? Now imagine being able to complete that feeling with every purchase. You can't choose your friends but who doesn't love receiving a personalized gesture from someone special in their life?
We're so happy we found this scrumptious friendship fruit and nuts tube at Hamperlicious– covered by an elegantly designed print of any photo verse message from your heart, delivered nationwide. Order one today and secret-package happiness will always be on its way!
23
Personalised Friendship Heart Shaped Clock
A timeless gift for the one friend you can't live without. Get a personalised heart shaped clock with three names and your favourite photo on it, guaranteed to be a conversation starter in any coffee shop or daycare!
24
Personalised Starbucks Friendship Coffee Tin
Celebrate and express your love with a personalised Starbucks coffee tin! Choose your recipient's name on the front, write a heartfelt message inside, and fill up with delicious Starbucks coffee. Whether you're looking for Valentine's Day gifts or need Father's Day ideas, this is perfect any day of the year to share how much they mean to you.
25
Pink Flower Power Bouquet
Who says Spring is only for daffodils and tulips? Take the perfect mix of Pink, Purple and Green flowers with you into summer! Celebrate a special occasion or just keep in touch when temperatures rise by sending this cheerful bouquet to your colleague, client or friend.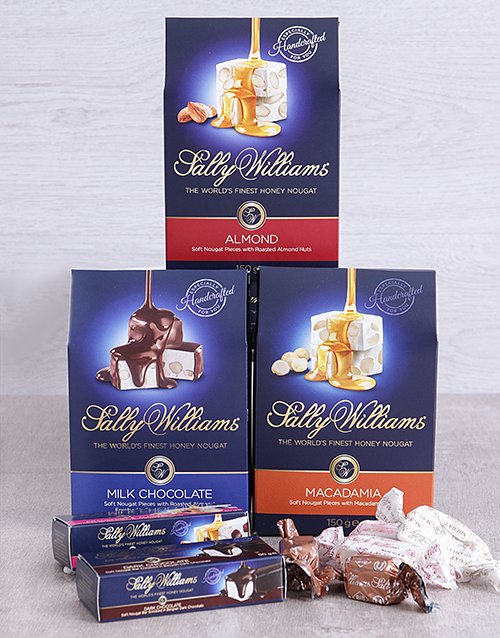 26
Singular Sally
Sally Williams has been gilding confectioneries since 1830, and Singular Sally is the crown jewel of her legacy. Made with just three ingredients–milk chocolate, caramelized sugar, and sea salt–each bite is smoother than Rudy's first saxophone solo, just a little bit salty with more than enough sweetness. Each batch lovingly crafts a uniquely shaped creature that was once hidden from society until she joined Singular Sally in spreading joy across this world; enjoy them alone or pair your favorite flavor with some fresh fruit for an irresistible pairing.
27
Yellow Gerbera & Rose Circle Box
Our beautiful display of fresh yellow Gerbera and Roses in a sleek white vase dressed with elegant, shimmering ribbon is the perfect way to brighten up someone's day.
28
Protea, Roses and Mixed Yellow Blooms in a Vase
Welcome to the garden. It's fresh, it's fragrant, and it just might be more beautiful than anything you've seen all day- which is why your recipient deserves a bouquet of flowers for being such an important person in your life. Send these blooming (and totally blooming) proteas and roses with some yellow daisies to light up their office space or home this week.
29
Roses and Irises in a Flair Vase
This jaw-dropping, most beautifully bouquet is sure to impress anyone who sees it. The flowers arrive in bud form so you can appreciate their full beauty and fragrance just as they open up for a few days. Surprise your mom or best friend on her birthday with this stunning arrangement or just bring some happiness into her space with these beautiful blooms!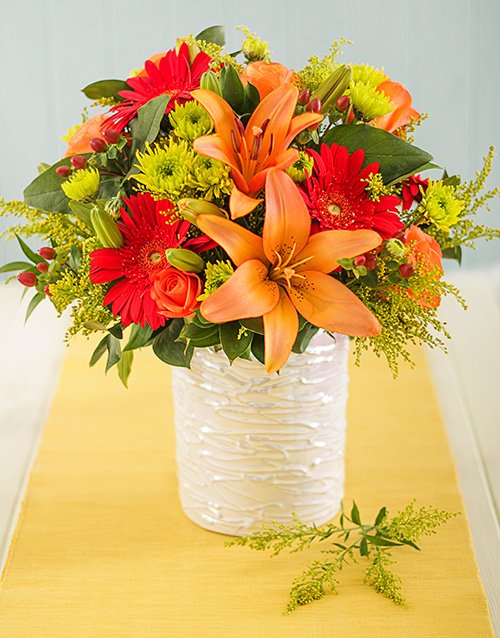 30
Fiery Mixed Flowers in Glazed Vase
This Fiery Mixed Flowers in Glazed Vase is an awesome gift for anyone. The perfect birthday, housewarming or Mother's Day gift for mom, a sister or any friend that brightens your day with her smile and laughter.
A stunning combination of whites, reds, yellows and greens make this arrangement one of our best floral gifts. Let someone know just how much they mean to you without saying a word!
31
Autumnal Bouquet of Mixed Flowers
Autumn is finally here and you know what that means! Pumpkins are being lit up, colorful leaves keep falling from the trees while blueberries and tart apples are in season. Make your special someone feel the beauty from this time of year with a simple piece of nature's bounty – A beautiful autumnal bouquet filled with vibrant protea stems, accentuated by delicate green pansies, intended to bring warm memories of ancient times.
32
Personalised Buddies Picnic Basket
All of that is well and good but we're not about to help or indulge in some random man's dream date. No, what you need for a day out with your closest friends is one organised by people who know just how much fun can be had on the countryside – us. And when it comes to going wild outdoors, there's no beating our personalised buddies picnic basket set for four!
Made from an easy wipe material and measuring up at 47x27x10 cm, this rectangular container can move mountains of snacks comfortably without breaking any records. Plus you'll never get bored of staring down at your own face every time you open it – even if it does look like she just woke up from a nap.
33
Personalised Light Grey Gown
This classic, light grey and sweet looking long gown is the perfect dress for any occasion. It's aesthetic lines and brown belt provide a sophisticated finish to this stunning finishing piece. The personalisation feature means it truly is an amazing gift that isn't seen anywhere else!
34
Charlotte Rhys Gift Set
Charlotte Rhys is always on the hunt for the perfect gift. This set includes all of her favorite things: an atmosphere spray, a luxurious scented candle and a soft terry flannel to wrap up anything she sets her eyes on. The best thing about this gift is that you'll get endless eye rolls when she opens it—the biggest sign that this occasion was nailed. So spoil your friend or loved one with Charlotte's inspiration today.
35
Cerise Pink Gerberas in a Bouquet
This vibrant pink bouquet is the perfect way to spoil that special someone. With its happy, bubbly personality it's sure to warm anyone you're trying to make happy and brighten their day no matter what. It's a great birthday gift idea for a close friend or loved one, or just because they deserve some happiness!
36
High Five in the Face Mug
Congratulations on no longer being the only one of your friends without a mug. Here to make anyone's commute just that little bit more entertaining, this 'High-five in the face' design is sure to put any lonely morning coffee break in good humour. Be careful though – one too many and you may end up with some spilled milk… And hey, who doesn't need another mug? So spruce up your desk or kitchen shelf with this cheeky addition from our stockers at Design A Mug.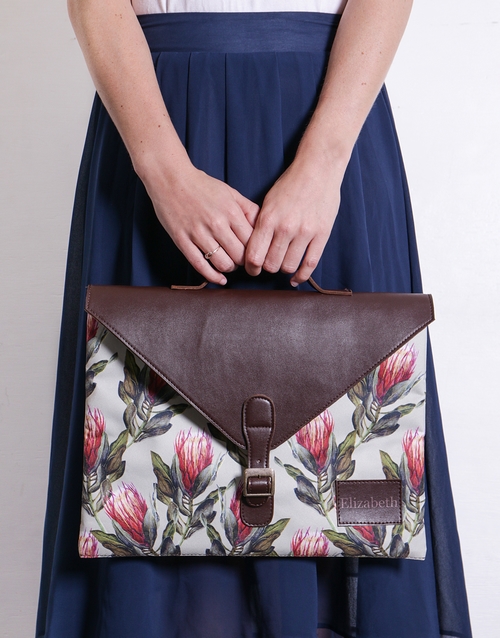 37
Personalised Protea Laptop Carry Bag
Ladies, if you're looking for a stylish and practical way to carry your laptop, look no further than our Personalised Protea Laptop Carry Bag! This gorgeous bag combines a beautiful Protea design with brown faux leather, and is large enough to fit a 14 inch laptop. Plus, we personalise it for free with the name of your choice! Order today for fast delivery nationwide.
38
Charlotte Rhys St Thomas Pamper Hamper
Like a walk in the park on a crisp Autumn day. This Charlotte Rhys St Thoma hamper will provide your loved one with everything they need to enjoy their downtime from work and everyday life stress! The atmosphere spray has a flawless fragrance to relax while the candle's aroma is one that leaves you feeling pampered.
39
Willow Tree Angel of Love
Holding a bright pink heart the Willow Tree Angel of Love sculpture is an excellent way to share your love with someone special. This inspirational and magical piece may help people feel hopeful, happy, and loved and remind them that true friends are always there for us during times of need. This realistic statue also celebrates unconditional love to a best friend forever.
40
Best Friends Soap Basket
Delight your friend with this gift basket, packed with heart-shaped soaps and the soothing scent of lavender. Take a moment to enjoy the scented candle while you bask in your plush bath towel for an indulgent time.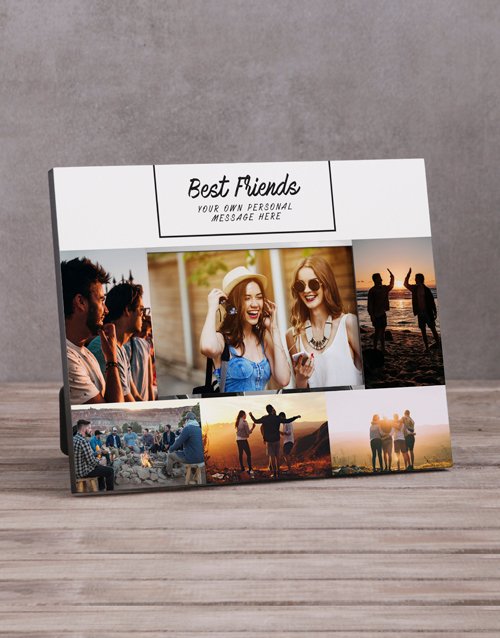 41
Personalised Best Friends Photo Frame
When you first met, it felt like your best friend was the only one who understood you. You both laughed when other people didn't and finished each other's sentences. The time flies by now as your hair goes grey but nothing has changed- this is a big opportunity for an even bigger expression of friendship! Create stunning memories with the Personalised Best Friends Photo Frame that holds 5 photos from over the years beneath "Best friends." Customize with up to 25 characters in any font of our choice below "Best friends" along with your own message to make this personalized present all about them – they'll know just how deep their friendships run in words neither saw coming.
42
Personalised Friends Make Notebook
This amazing notebook is perfect for taking notes, doodling to their heart's content and just plain ol' journaling! Write down all their thoughts in this beautifully colourful SpongeBob SquarePants themed notebook that can be personalised with your recipient's name. You can give them the 60-page A4 or A5 lined hardcover bound book. They might need a nameplate on it, but we're sure they'll love all these nerdy cool features!
43
Personalised Best Friends Acrylic Block
Nothing says "I'm your best friend and I always will be" like an acrylic block. Upload two photos to make a personalized gift that celebrates your lifelong friendship with someone else. It's as easy as 1-2-3, just click upload from the site, personalise it for them in our preview window, then we'll print it out on white matte cardstock paper all customized with their name – they can't go anywhere without hanging around nearby!
44
Personalised Friends Photo Mouse Pad
Keep your most treasured memories close to heart with a Personalised Friends Photo Mouse Pad! Get one for yourself or order as a gift, this mouse pad can be personalised with anyone's name and photos of your choice. Whether you're looking for something funny, sentimental or just plain cute, our team make sure every photo that is uploaded turns out great!
We trust that any gift you send from this list of amazing birthday gifts for friends will convey the love and devotion you have for each other for the duration of your friendship.
Now that you have read our birthday guide on birthday gifts for friends, there is no going back! The birthday celebration of your friend will never be the same again. Send birthday presents for women and girls to show them how much they mean to you.
Craig Sandeman is South Africa's go-to guru for all things gift-giving, blending psychology and cultural insights to curate perfect presents. A Cape Town native with a global perspective, he's renowned for his blog, workshops, and media features that delve into the art and science of thoughtful gifting. If you're ever stumped on finding the ideal gift, Craig's expert advice is your ticket to gifting success.