When you look for the perfect birthday gift, it's hard to beat a birthday bouquet delivery. That's especially true when most of the country still practice social distancing, and parties are discouraged. A beautiful bouquet can help cheer up a friend who hoped to celebrate a milestone birthday with a bang. 
Did you know that each birth month has its own flower? 
Like gemstones, birth flowers represent traits of the people born in that month. They also show the relationship you have with the person you're giving the flowers to. That makes a flower arrangement one of the most personal gifts you can give.
To help you select the ideal gift for everybody in your life, let's take a closer look at birth month flowers and their meaning. 
January: Carnation and Snowdrop
People with January birthdays get to celebrate with the classic carnation, which generally represents love, distinction, and fascination. However, each color has a different meaning. 
For example:
Red traditionally means love; 

Pink symbolizes gratitude; 

White represents purity; 

Yellow signifies rejection (so it's probably best to avoid giving your partner yellow carnations for a birthday!). 
According to expert The Bouqs Flower Company, the snowdrop is also a January birthday flower. They're always white and represent hope, purity, rebirth, and sympathy or consolation. These flowers are among the first to bloom in the spring, often popping up from under a layer of snow. 
February: Violet, Iris, and Primrose
Several different types of flowers symbolize February birthdays. Surprisingly, none are the roses that are so popular for Valentine's Day (roses have a different month).
In general, violets represent modesty, faithfulness, and loyalty. However, white violets can represent innocence and candor. 
The uniquely shaped irises signify hope, faith, royalty, valor, and wisdom. They are most commonly blue, purple, or yellow.
Meanwhile, primroses mean youth, young love, or "I can't live without you." How sweet! Primroses are available in a rainbow of colors, so you're sure to find the perfect bouquet for your loved one. 
March: Daffodil and Jonquil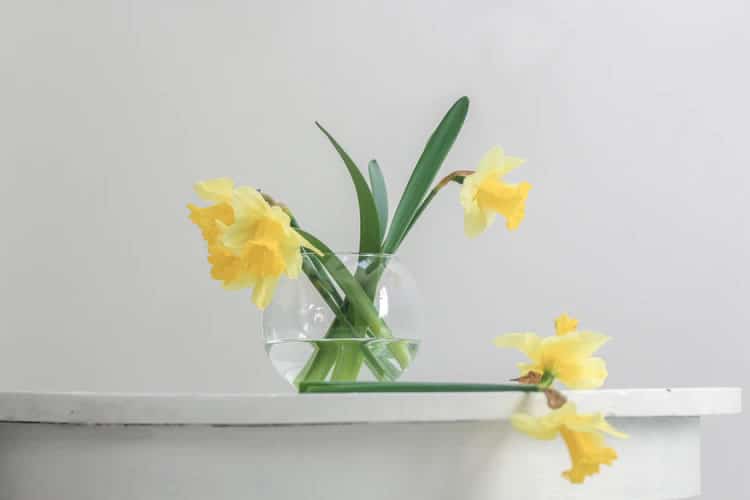 March birthdays get to celebrate with sunny daffodils. Typically yellow or white and yellow, daffodils have many different meanings, including memory, forgiveness, inspiration, creativity, awareness, renewal, and inner reflection. 
Jonquil is a particular type of daffodil that is also ideal for a March birthday celebration. It represents desire, sympathy, and "Love me." Jonquils differ from other daffodils by their tube-shaped leaves and clusters of flowers rather than single blossoms. 
April: Daisy and Sweet Pea
Is there any flower as happy as the daisy? Available in many colors, this April birthday flower symbolizes many things, including:
Innocence;

Purity;

Chastity;

Transformation;

Cheerfulness;

Childbirth; 

New beginnings.
If you look for an April birthday flower that's a little less "pure," the delicate sweet pea represents blissful pleasure – so you may want to reserve this one for your true love!
May: Hawthorn and Lily of the Valley
One May birthday flower, hawthorn, represents hope and "supreme happiness." What a wonderful birthday gift! The small hawthorn flower is usually white or pink. 
The other May birthday flower is the sweet-scented lily of the valley. It represents humility, sweetness, and happiness. Lily of the valley flowers are typically a white, droopy bell shape.
June: Honeysuckle and Rose
Honeysuckle, one of the June birthday flowers, symbolizes love, lost love, sweetness, and affection. It has an interesting shape and comes in many different colors. 
Throughout the history of roses, you will various meanings depending on the color. 
Red roses signify love.

White roses are sad and represent "a heart unacquainted with love".

Pink roses denote elegance and grace.

Purple roses show enchantment, pride, and royalty.

Yellow roses can mean anything from cheer and friendship to infidelity and jealousy.

Orange roses symbolize passion and enthusiasm.

Blue roses, an unnatural color, represent intrigue and mystery.

Cream roses are perfect for showing thoughtfulness and charm.

Peach roses signify gratitude, sincerity, and modesty.
A peculiar fact: The scent of rose during sleep has proven to boost and better your memory!
July: Larkspur and Water Lily
There are two different July birthday flowers with completely different looks.
Larkspur (also known as delphinium) has quite a few different meanings, including lightness, affection, love, strong attachment, and a desire for laughter. This flower grows on tall spires and comes in shades of red, yellow, pink, blue, and purple. 
The unique water lily, commonly found in ponds, symbolizes peace, pleasure, life, and love. The water lily also happens to be the national flower of Bangladesh.
August: Gladiolus and Poppy
One August birthday flower, gladiolus, represents faithfulness, remembrance, strength of character, moral integrity, and infatuation. Additionally, the sword-shaped leaves resemble love-pierced hearts. What a wonderful birthday gift for a new love interest!
Poppies are a less-common August birth month flower. Red poppies represent hope, pleasure, and remembrance. Yellow poppies signify success and wealth, while white poppies are for consolation (making them less than ideal for birthday gifts). 
September: Morning Glory and Aster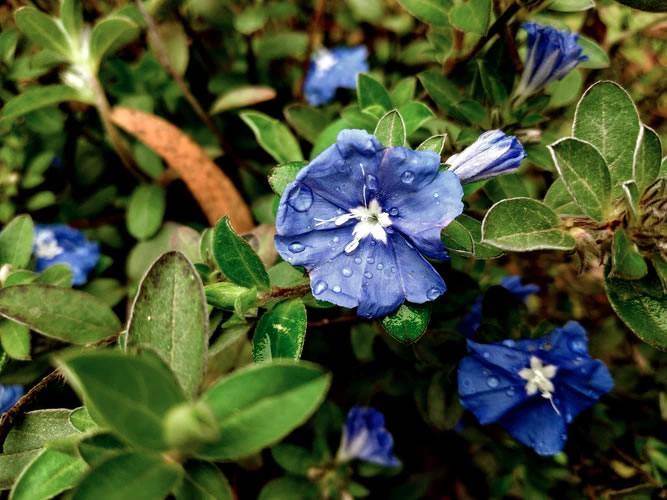 Morning glory represents quite opposite ideas: affection and unrequited love. That's because they bloom in the morning and wither in the evening. Morning glory is commonly pink, blue, or purple. 
The other September birth month flower, aster, has much happier meaning. Aster stands for elegance, patience, wisdom, and love. That seems like a safer option as a birthday present! Aster is typically white, pink, purple, or lavender. 
October: Marigold and Cosmos
Marigolds, one of October flowers that have many meanings:
Creativity;

Passion;

Jealousy;

Grief;

Cruelty.
As their name suggests, marigolds are typically some shade of gold. They can range in shade from pale yellow to dark orange.
You might be safer going with cosmos flowers to avoid possible negative connotations. They symbolize wholeness, peacefulness, innocence, love, and modesty. The blooms are available in a wide variety of colors, so they're easy to personalize as a birthday present. 
November: Chrysanthemum
November's birth month flower, chrysanthemums, are also known as just mums. They signify fidelity, longevity, joy, and optimism. A flower representing longevity seems like the ideal birthday gift! That must be why it's the only flower for November. 
December: Holly, Narcissus, and Poinsettia
Befitting the holiday season, December has three different birth month flowers. 
Holly, while not technically a flower, stands for goodwill, peace, and domestic happiness. The green leaves and red berries are the perfect representation of the holidays. 
Narcissus stands for faithfulness, modesty, wealth, hope, and good wishes. These flowers are generally white, yellow, or a combination of the two. That makes them ideal for people who resent having a birthday during the holiday season.
Green and red poinsettias represent good cheer. Poinsettias are poisonous to pets, so keep that in mind before giving one to a friend with cats or dogs.
Need more gift ideas? Check out our guides:
Final Flower-Giving Tips
Before you buy any flowers, make sure you brush up on your flower gifting etiquette. For example, did you know that flowers are inappropriate birthday presents in Egypt? Egyptians only give flowers as get well, funeral, or wedding presents. 
It's important to consider your recipient's culture, preferences, and personality when selecting the right flowers. Also, it never hurts to research which flowers are common for which occasions. 
As long as you follow basic flower gifting etiquette, your birthday gift is sure to be a big hit, no matter which month your loved one was born in!
Craig Sandeman is South Africa's go-to guru for all things gift-giving, blending psychology and cultural insights to curate perfect presents. A Cape Town native with a global perspective, he's renowned for his blog, workshops, and media features that delve into the art and science of thoughtful gifting. If you're ever stumped on finding the ideal gift, Craig's expert advice is your ticket to gifting success.